BOOK LAUNCH - THE ARTY FARTY PARTY ...
Despite incessant rain that burst from Mumbai skies the night before and continued without a moment's respite all through the next day, The Arty Farty Party was released bang on schedule at the Hard Rock Cafe, Mumbai on 27 August 2011 by R. Balki, Chairman & Chief Creative Officer, Lowe Lintas, and critically acclaimed film director. The informal function was attended by some leading members of the city's advertising and marketing fraternity, although, if bad weather hadn't played spoilsport, there would certainly have been a larger number of luminaries in attendance, many of whom, like Pritish Nandy, poet, journalist and film producer and Prahlad Kakkar, advertising film maker, had to call off at the last minute because either they were stranded in some distant suburb or, as in the former's case, a distant airport!

Balki, while releasing the book, admitted he had only just received a copy, but from what he could make out from the first few pages, it promised to be "one helluva read". He added, tongue firmly in cheek, that though the book strenuously claimed to be a work of fiction, he was sure he'd recognize several characters from the real world of advertising populating its pages. In wishing the book all success, he commended the author on his trenchant style, sharp wit and irreverent humour and hoped that neither his pen nor his imagination would ever run dry. The author, Pratik Basu, expressed his gratitude to everyone, particularly, Balki, for having braved the bad - almost impossible - weather to participate in the launch of The Arty Farty Party and hoped they'd find some degree of compensation for their efforts within the 366 pages of the book.

For comfort in the interim, there was the Hard Rock Cafe bar, sponsored on the day by Pernod Ricard.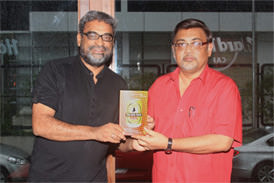 view gallery >>
Ex-Disney India Chief launches new Company!
At a well-attended function at Bajaj Bhavan, Mumbai, presided over by renowned author, Ruskin Bond, Pratik Basu, 30-yearveteran in the field of marketing, advertising and media, released his debut novel "Clueless & Co.", published by Rupa. Brinda Chudasama Miller, contemporary artist, introduced the author in his new avatar as a writer and acclaimed theatre person, Mahabanoo Mody-Kotwal, best known for her production of "The Vagina Monologues", read a passage from the book.
"Clueless & Co." - drawn from the author's early experiences - takes a whimsical, light-hearted, tongue-in-cheek and thoroughly exaggerated view of corporate life, in a Calcutta of the mid-'80s, from the perspective of two relative greenhorns: One, Rahul Banerjee, who, on a sudden impulse, resigns a stable job with a multinational firm to start a marketing research agency of his own, in partnership with two relative (and, as subsequent events reveal, rather weird) strangers; the other, the unnamed 'I' who, as a sales executive in a multinational, finds himself constantly blundering into situations that his business school education had not prepared him for.
While they have separate "misadventures", their paths do cross in the end, as paths in Calcutta's limited commercial circuit were prone to, in those days, setting them up, rather conveniently, for a sequel (this time, in the world of advertising). While a series of bizarre experiences stretch the talent and fortitude of our reluctant heroes to breaking point and force them to unlearn all the tenets of management that they'd imbibed in business school, they manage to muddle through by adhering to a simple life-lesson: not to take themselves too seriously.